Memories of died pet colleagues
The following page shows various memories of former four-legged friends which make me :-) (purring and wagging the tail) and :-( (the death trap road) simultaneously still today.
---
The cat »Lümmeli«
A particularly charming tortoiseshell half-breed cat which purred a lot of hours peacefully to me :-) :-) and which was completely fit, until the human's metal mobility madness put it a sudden end in the night to April 1st, 1997 :-(.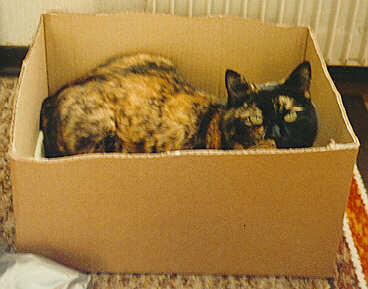 I first saw the light of day for the first time in Austria in February 1985 together with some other kittens. After ¼ years I was brought together with my brother Peter to Hofen. Unfortunately the traffic on the road was his undoing so I already lost him very early. Mew ;-(. Four years later I got a new friend. He was the tomcat »Florian«, who saw the light of day in the market-garden Weber in Hofen. Unfortunately he caught a cold several times so Andreas' mother often had to go to the veterinary with the poor chap. He was keen on being on the prow in strange gardens, fields and woods. Unfortunately one day he didn't came back from a prowl. Since then I've lived alone. Fortunately I'm a bit shy and prudent, otherwise the same fate of lots of my predecessors could have been happened to me on the road in front of the house. I only let me caress by my own family's members. I catch a lot of mice all the year but when it's bad weather I prefer to lay in a cardboard box like the photograph above shows. The family calls me »s'Schächtelibüsi« (a little box cat) because of that.
---
---
© 1997, 1998 by Andreas Meile